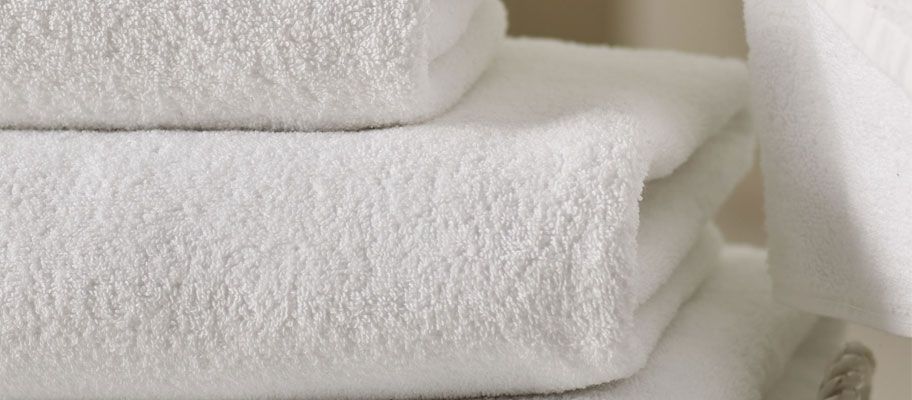 Bath towels are one of the most hardworking members of your hospitality establishment, and one of the most important! They're in charge of helping your bathrooms look beautiful, keeping your guests clean, dry and warm and are often tasked with wiping up water and other spillages from around bathroom surfaces. It's quite a tough old life, which is why proper care to keep towels soft (such as bath towels and hand towels) is of the utmost importance. But what exactly is the best way to wash towels to keep them soft and, ultimately, keep your hotel and spa guests happy? Read on to find out.
But first… did you wash your new towels before use?
It can be tempting to get that lovely new towel straight into the bathrooms of your bed and breakfast, guest house or small hotel, but you should actually be carrying out a preliminary wash that many people aren't aware of.
During the manufacturing process, a lubricant is applied to the yarn that's used to form your towels terry loops (the things that help a towel absorb large amounts of water), which makes the insertion of the terry loop weft during weaving much easier. The bad news is that this lubricant gives the yarn a slippery surface which remains once the towel lands in your hands, and requires a good initial wash to be removed.
What's more, pre-washing new towels also allow the ground weave of the towel to shrink in, tightening the fabric and holding the terry loops mentioned above in place. Just remember to use around three times the usual quantity of detergent to ensure all the lubricant is removed.
Now, how can you keep towels soft over the rest of their lifetime?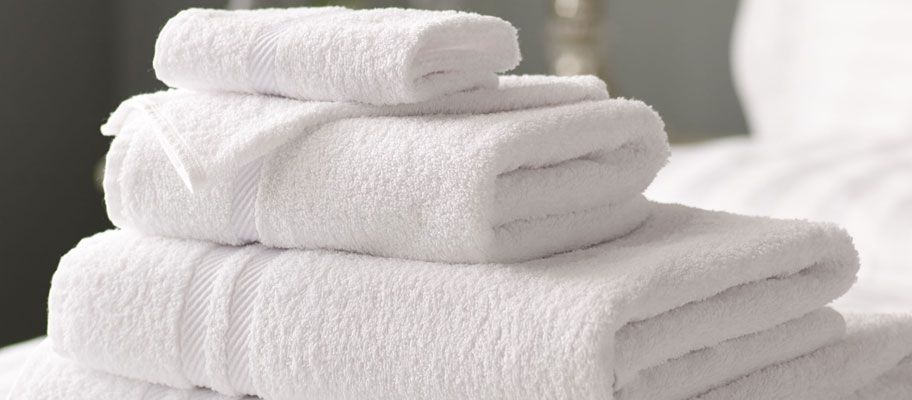 Over time the detergent you use in each towel wash builds up on the towels themselves, causing even the most luxurious among them to eventually stiffen up and lose their plushness.
While resisting the urge to cut corners and washing according to the manufacturer's instructions does help, there are some additional elements that you should be taking into consideration too:
- Give your towels a good shake before loading them into the washing machine. This opens up the fibres slightly to allow the detergent to sink inside.
- Wash your towels according to their colour. While optical brightening agents do improve the vibrancy of white towels, they can drastically mask the true shade of coloured ones.
- If your washing machine runs on hard water, hunt down a specialist detergent that will stop the texture of your towels turning harsh. Here are some more tips for washing laundry in a hard water area.
- While fabric conditioner does improve the smell and softness of towels, if used too heavily it can lubricate the towel fibres cause them to lose their absorbency and, eventually, fall out. Always make sure you're using just the right amount of conditioner to prevent depleting quality.
- Where possible, try drying towels out in the fresh air before popping them into the tumble dryer for a brief spell to fluff them up. If drying them completely in a tumble drier, avoid setting them on too long or too hot a drying cycle or they'll take on a dull, grey appearance.
You see, great bath towel care is simple, and if you have a little more time on your hands you could even try out a couple of more unconventional tricks.
Placing a single cup of white vinegar in your wash with detergent about once or twice a month is great for cutting through the claggy residue that detergent can leave behind. And it might sound a little mad, but adding a tennis ball or two into your dryer is another great way to fluff up your towels as they bounce around, and is completely safe.
If your towels are coloured towels, we've got the perfect guide to keeping coloured towels looking vibrant.
Finally, don't forget to treat them kindly
While careful washing is a deciding factor in the enduring quality of your hotel towels, you mustn't forget the importance of simply using the towels in the correct way.
It might sound patronising, but you'd be surprised how many members of cleaning staff use towels instead of proper cleaning cloths to clean tiles, baths, and other surfaces. Tile cleaners are highly acidic, with the concentration being high enough to start eating away at the towel fibres once they've been in contact for a long time. Even worse, this damage will only become apparent once the towels have been laundered and sat in the acid for some time, leading to arguments between hotel owners and their laundries or suppliers, as they thought the towels were in perfectly good condition before the wash.
This kind of damage turns towels into very expensive cleaning cloths, despite being easily avoidable!
So there you have it; with a little TLC and even a little unconventional resourcefulness, your luxurious bath towels will look and feel much more sumptuous for longer.