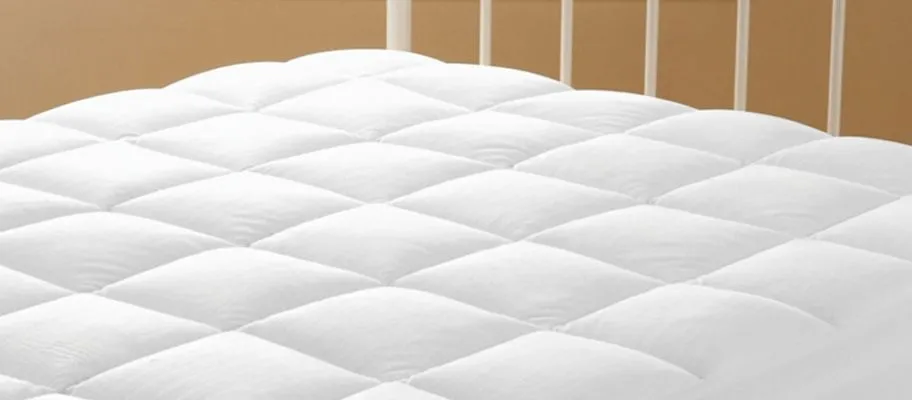 When there are so many elements of bedding available to help create the perfect place for guests to sleep their worries away, it's only natural that many of us mistake mattress toppers and mattress protectors as being the same thing. On the contrary, each has its own special place on a bed and serves a different, but just as important purpose. This is why we decided to clear up the misconceptions surrounding these essential bedding products and answer a question we hear surprisingly often – "but why use a mattress protector or mattress topper anyway?"
What is a mattress topper?
A mattress topper is essentially an extension of your mattress. Usually measuring about 4-8 inches thick and providing you with extra comfort and cushiony softness, they're a great addition to a bed and will help improve a guest's night's sleep. Some mattress toppers (such as the memory foam variety) even mould to the sleeper's body to provide the ultimate in luxurious comfort, supporting the neck, back and pressure points to banish uncomfortable aches and pains. Toppers can even give older mattresses a new lease of life if you can't quite afford to invest in a brand new mattress just yet.
However, perhaps one of their greatest advantages where small hotel, B&B and guest house owners are concerned is how quick and easy they are to clean.
We know how hectic day to day hospitality ownership can be, but extra bedding products like mattress toppers simply require you to vacuum their surface in a well-ventilated area, using a circular motion that ensures each fold and crease is covered. What's more, using a mattress protector on top will help prolong the life of your luxurious topper for even longer.
What is a mattress protector?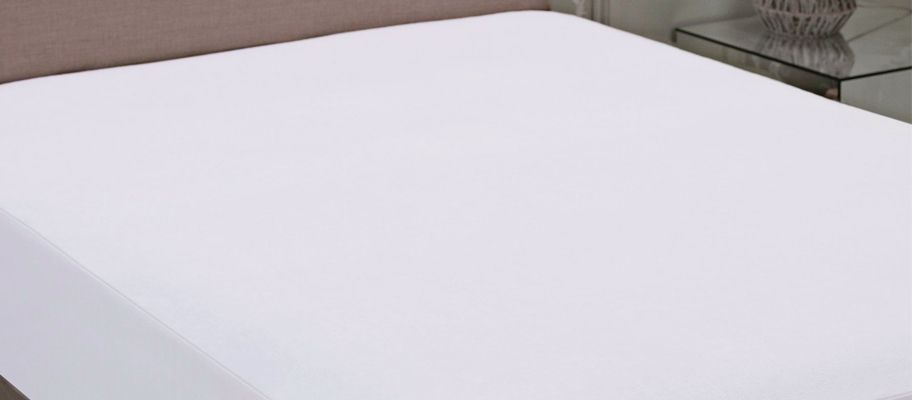 Like it or not, you can sweat up to 220 milliliters per hour in a warm room, meaning that as well as allergens like dust mites, animal hairs and dead skin cells lying dormant in mattresses to irritate conditions such as asthma and eczema, things like natural perspiration can seep in and leave that tell-tale yellow tidemark that often never comes back out. This is where a mattress protector comes in.
Doing what it says on the tin, mattress protectors form a barrier around your mattresses to protect against everything from stains to allergens, thereby prolonging their life. It's a true piece of investment bedding, promoting enduring quality, hygiene, comfort and reliability in all mattresses. They're even available in a range of different types to suit the needs of every small hotel, B&B or guest house owner:
- Zippered mattress protectors zip closed around your mattress, meaning they won't slip off if guests are prone to tossing and turning in their sleep and form an impenetrable barrier against stains and allergens.
- Fitted mattress protectors simply tuck around mattresses like a bottom sheet, making them a quick and easy bedding item to change when time is scarce.
- Waterproof mattress protectors offer unrivalled protection against stains and spills and greatly reduce the ability of mould to grow on a mattress.
- Polyurethane mattress protectors are a soft and fine waterproof option, incorporating a breathable reverse which doesn't interrupt sleep with irritating crackling noises like some conventional waterproof protectors.
- Polypropylene mattress protectors are lightweight yet incredibly strong and incorporate low moisture absorption, making them not just moisture and stain resistant, but easy to clean.
Although adding a thick mattress topper and mattress protector to your beds might be a little more expensive and require that little bit more effort, you can't deny what a great impact they can have on the comfort of you, your guests and the quality of the rest of your bedding. We even stock a fantastic range right here at Vision Linens, all manufactured to the highest quality and available at wholesale prices that won't tear your pockets.
Take a look if you like or visit our other blog posts for more handy advice on prolonging the life of your bedding.