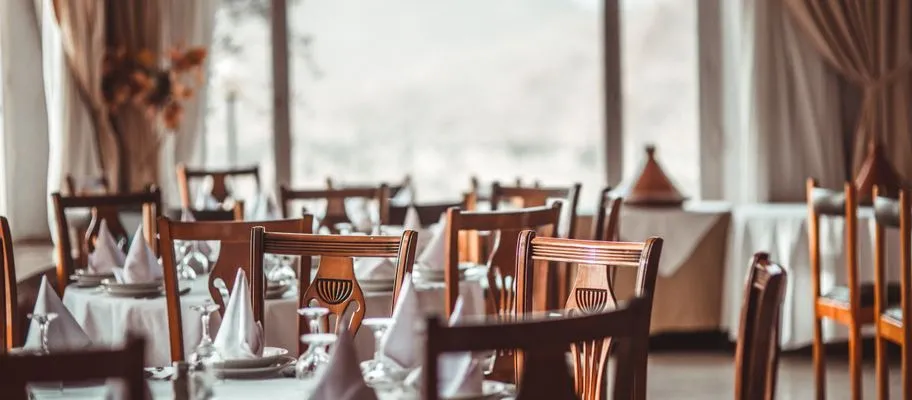 Choosing the right table line for your restaurant or other eatery is not a decision that should be taken lightly. Sure, you may forget about table linen altogether and just stick to bare tables. But, first, consider a 2019 study that investigated the influence that table linen has on customers perceptions of the restaurant. It found that 'fabric table linen contributed to a significant higher preference of the appetiser and the meal quality in general' as well as 'better service, ambiance and overall experience' were attributed to fabric table linen being used. We covered this in more detail in our article about why you should use cloth table linens in your restaurant, but how do you go about choosing the right table linen in the first place?
As a leading restaurant table linen supplier, we have used our expertise to produce a list of things you need to consider while choosing table linens. Read on to find out more
What size of tablecloth do I need?
Before you rush off to buy a new tablecloth you need to know this one crucial bit of information above anything else; the size of the table that the tablecloth will be covering. So, get your tape measure out and measure both the length and the width of the table service and make a note of it. Now obviously you do not want a size that exactly fits the surface area as the overhang needs to be accounted for, which is our next point.
Sit down at the table and measure the distance between your legs and the table service. Take this measurement and add it to all four sides of the table's measurements. It will be roughly around 20cm on all four sides.
For example, if the length of your table is 120cm and the overhang is 20 then it would be 120 + 20 + 20 = 160cm. Similarly, if the width is 100 then it would be 100 + 20 +20 = 140cm. So, the size of tablecloth you need would be 160 x 140cm.
It is important to get these measurements correct before you order the tablecloth online to avoid having to return your tablecloths.
What type of table linen should I buy?
Here is a run-down of the types of table linen available on the market today.
Cotton Table Linen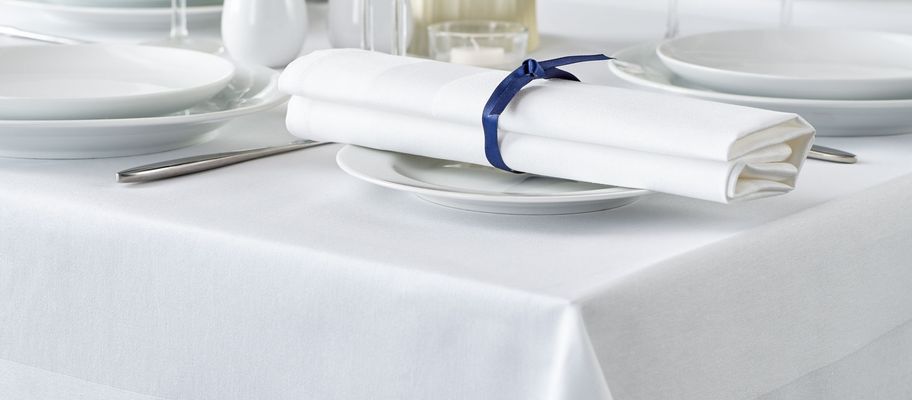 One of the most popular types of table linen, cotton is easy to produce and process, meaning that you can buy them at relatively cheap prices. As most cotton tablecloths are machine washable, you will find it much easier to keep stock rotation smooth in a busy restaurant. It is also an extremely durable fabric, so you will get true value for money as each tablecloth will enjoy a long lifespan. You can find cotton tablecloths in a wide variety of colours and patterns.
Cotton is also a natural breathable fibre that does not suffer from a build-up of static, making it easier to separate from a pile of cotton tablecloths and ensuring guests do not get a static shock when they brush their hand against it.
View our cotton tablecloths here.
Polyester Table Linen
A synthetic material, polyester table linen has strong and hard-wearing attributes but still retains the look and feel of cotton. It can be combined with cotton to create a polycotton blend, but on its own it has similar benefits to cotton in that it is durable, inexpensive, machine-washable and is available in a wide range of colours and styles.
Unlike cotton, polyester will not shrink if it is in a long cycle in a dryer. It is also much quicker to dry and crease resistant, meaning that you can get your tablecloths cleaned and back on the table in record time. Just be aware that some people may be sensitive to polyester tablecloths due to the chemicals used in its production.
View our polyester tablecloths here.
Satin Band Table Linen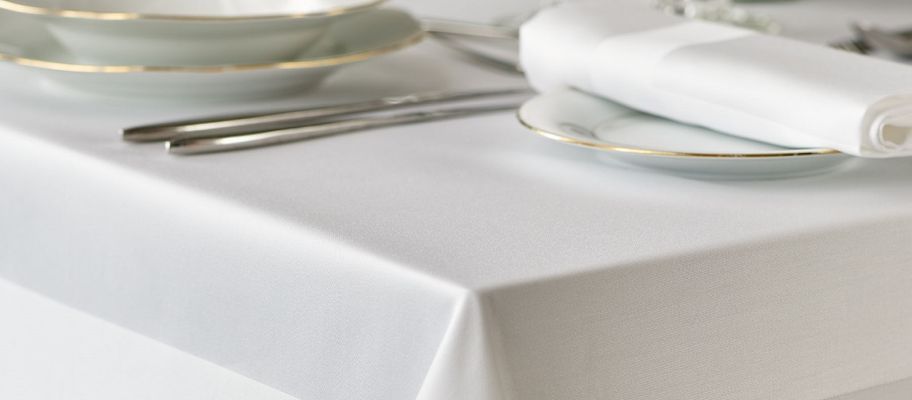 The ultimate in luxury table linen, satin band table linen is ideal for fine dining restaurants and luxury hotels. Satin band tablecloths are usually made of 100% cotton (although we do offer a 100% polyester satin band tablecloth) and have a luxurious silky feel. If you are looking for a premium and distinguished table setting, then this is the ideal choice for you.
Vinyl & Plastic Table Linen
Vinyl and plastic table linen cater more towards the informal eatery than a formal restaurant. They may be easy to wipe down after use, meaning that you won't have to swap them out every time a new customer arrives (depending on just how much mess the previous customer has made, of course), but they don't look elegant and will completely negate any sense of sophistication you're going for. However, if you have outdoor areas or are putting on an event outdoors then this is the best material to use. Vinyl is weather resistant and can avoid damage from stains, water, light, or air exposure.
Disposable Table Linen
Disposable table linen, such as paper tablecloths, are great if you are putting on an event that can be quickly cleaned up afterwards. But, unless you are a fast-food restaurant with a quick turnover, disposable table linen is a complete turn-off for the customer and should always be avoided. However, it does benefit from being the cheapest option available.
Colour and Design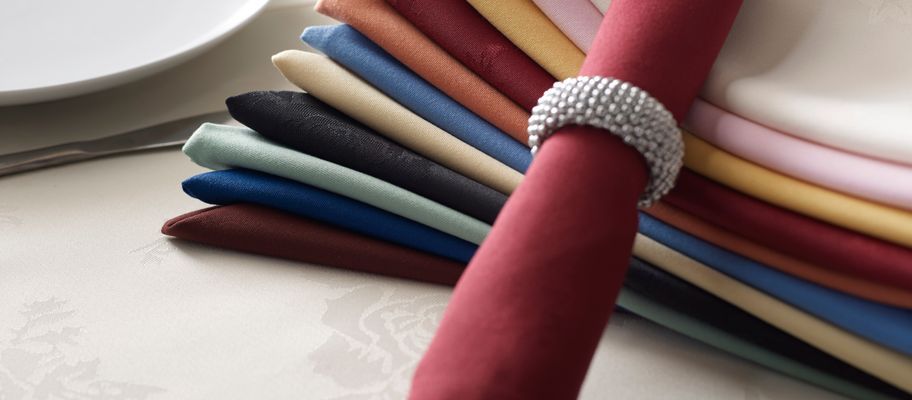 The colour and design to choose really comes down to what the rest of your establishment looks like. For example, a white satin band tablecloth will work wonders in a formal restaurant, but, on the other side, a tablecloth with a blue checked pattern would look wildly out of place. Luckily, there are a wide range of colours and designs out there to choose from, but we suggest being conservative with your choice.
White table linen is the most popular colour choice, due to this neutral colour working with any aesthetic you can think of. Plus, many white tablecloths and napkins feature stain resistance now, so even if red wine does get split on your brand-new tablecloth, you should be able to remove it in the wash.
If you do decide to go for something different, try your best to picture what it would look like in your establishment. You can't physically place it in your restaurant to test whether it looks good before you buy, especially if you buy online (although sometimes samples are available) so it's a good idea not to go too crazy or you'll just end up wasting your money on something you don't like, or you'll have to go through the hassle of returning it.
Above all, your table linen colour and design needs to be effortlessly coordinated with the tableware and other elements within the room it is placed in
Maintenance
Ease of maintenance and the longevity of the table linen are two factors you need to consider while buying table linens. Are you equipped to wash and store the linens in-house? Or do you have any plans to outsource laundry requirements? In the materials section above, we have outlined the type of life you can expect from each material, but when you are buying your table linen you need to remember than you will need to buy more than the amount of tables you have in your establishment. As you will be rotating your stock, you always need to have some available. If you're using an external company to keep them clean, you'll need to factor in the time it takes for them to pick them up, wash them, then return them to you.
We've gone the extra mile by providing maintenance and washing instructions on the product pages for all our table linen. Just look under the 'care instructions' tab on each space for full information.
If you're looking for table linen for small tables, be sure to check out our bistro tablecloths range.
We hope this gives you a good idea of what you want to buy when it comes to table linen. As always, if you need further information or help then please do not hesitate to contact us or use our live chat service for instant help (live chat is only available on weekdays 9am-5pm GMT).