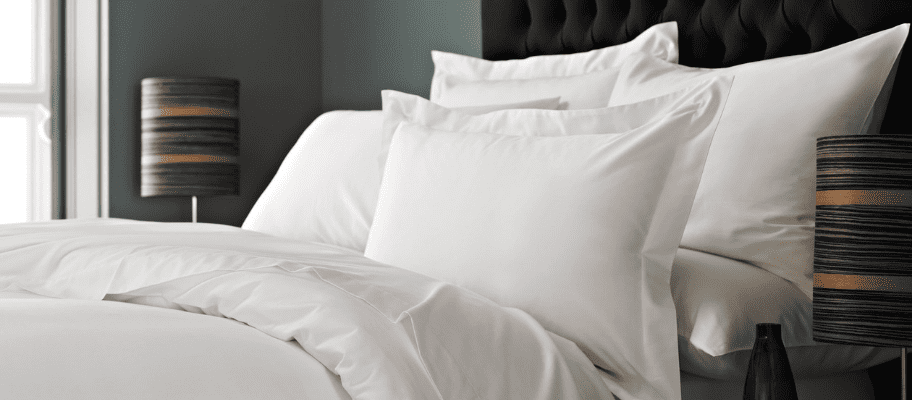 When you work in the textile industry, it's easy to forget that most people outside the industry might not be familiar with the terms you use daily. As such, you may see various terms mentioned across our website that you aren't familiar with, so we use our blog to explain what these terms mean. In this article, we're going to tackle percale bedding and sateen bedding. We'll explain what these terms mean, as well as explain the difference between the two to help you make an informed decision when trying to decide what bedding to buy.
What Is Sateen Bedding?
Sateen bedding has a higher lustre and a shinier and silkier appearance than plain bedding. It also feels softer and has a less stiff hand feel than other bedding.

Sateen bedding is made from 100% cotton, with a higher thread count than materials such as polyester or polycotton. The weaving process uses combed, carded, or long-fibre cotton threads that are mercerised, which means they're soaked in lye and acid. The weave construction consists of the weft (width ways) yarn floating over 3 to 5 (commonly 4) warp (lengthways) yarns to give a smooth, satin type finish.
A good example of sateen bedding is our VV300 100% cotton sateen plain duvet cover, which happens to be one of our best-quality and best-selling duvet covers. It's made of 300 thread count 100% cotton with an eye-catching sateen finish.
What Is Percale Bedding?

Percale bedding is made of a closely woven plain weave fabric, usually with a thread count of 200 and above. The finish is a plain matte in appearance, with a crisp hand feeling. It's also an excellent choice for summer months, as it's a breathable fabric that helps keep you cool at night. Thanks to its plain, clean design, it's an appearance that will suit all bedrooms.
Take a look at our V200 100% cotton percale plain flat sheets if you need a sheet with a luxuriously smooth finish and a neat, clean appearance.
For more on the weaving process of both percale and sateen bedding, read our article.
What Is the Difference Between Sateen & Percale Bedding?
There are numerous differences between sateen and percale bedding, and which one you buy all depends on what you want to get from your bedding.
For starters, both will have a difference in temperature. The structure of percale, with a one under, one over weave, creates a material with breathability, which it makes it ideal for warm nights. You'll often find percale bedding used in hotels in warmer climates. Sateen bedding, on the other hand, is more tightly woven and heavier than percale bedding. Due to this, sateen bedding is best used when you want to be warmer in bed, making it perfect for winter months.
In terms of durability, percale is robust and experiences a long life, as long as you take care of it. It's less prone to pilling or fading, improving with every wash, so it will continue to look as fresh as the day you bought it. Sateen bedding has the downside of being more prone to damage in the form of pilling and bobbling, although there are steps you can take to reduce this (read our tips here). As such, you can expect a shorter lifespan over using percale bedding. It's a toss-up between whether you want a long and durable life from your bedding, or you want to go for the more luxurious choice.
When it comes to look and feel, percale bedding has a crisper and cooler feel than sateen bedding, so if you're buying for a hotel for the summer, then this is likely the choice that most guests will prefer. However, looks wise, it's more prone to creasing and wrinkles so will need ironing more. It's also not as soft as sateen bedding. Sateen is more luxurious, and its satin-like finish is a budget solution to getting the look of satin without the more expensive price tag. Sateen is also naturally wrinkle resistant, so you won't have to iron it as much as you would with percale bedding.
When it comes to choosing between the two, it really comes down to personal choice in what you want to get from both the feel and appearance of your bedding, as well as how much maintenance or replacing you want to do. If you're buying for a hotel, you may even want to try both types of bedding, especially if you have a split between budget rooms and more luxurious bookings.
So, now you know the differences between percale and sateen bedding, you'll want to know the best place to get it. Here at Vision Linens, we have both types of bedding available. If you prefer flat sheets with a sheen, then you'll want to check out our best-selling Vision V 300 thread count 100% cotton sateen plain flat sheet. If you want a duvet cover that's going to keep you cool at night, try our V200 100% cotton percale plain duvet cover.