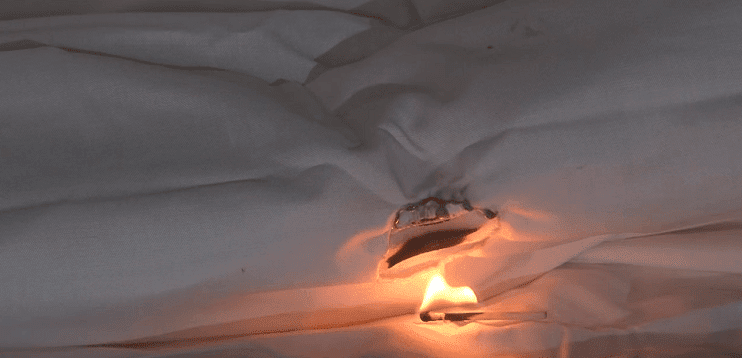 A single flame can change a life in seconds. Imagine lighting a cigarette in bed and falling asleep with the still lit cigarette in your hand. If this dropped onto the bedding you're lying on, it could quickly engulf the entire sheet and, before long, the entire room. So it's important to realise that having fire retardant bedding in a room can be the difference between life and death, especially in settings such as care homes where people may not be able bodied. While it's not currently a standard requirement to have bed linen tested to ensure fire safety compliance, strongly advise that you use fire retardant products when you're looking to purchase bedding for such high-risk environments. While it's particularly important for high-risk environments, any environment can definitely benefit from the extra safety provided by FR products.
In this article, we'll take a look at what fire retardant textiles are, why they're important, and present two videos that show you how they work.
What are flame retardant textiles?
Flame retardant textiles are intended to reduce the hazards caused by the development of a fire on or in close proximity to the textiles in question. Materials are made fire retardant through chemical treatment or with manufactured fireproof fibres (such as polyester, which has the ability to self-extinguish when ignited). When an FR fabric is exposed to a small scale ignition, such as a lit cigarette, the damage caused by the flame will be limited to a tiny area and will not flare up to become a full-scale fire hazard. In effect, the fabric extinguishes the fire without any human input. All our FR products are designed to meet or exceed the British Standards flame retardant performance specifications (BS7175 Ignition Source 7). All products are stringently tested before being released on to the market, following a strict quality control policy with testing carried out in accredited UK test laboratories. Cigarette, match, and crib ignition sources are used in the test to ensure compliance.
Why is fire retardant bedding so important?
Even a small match can have a devastating effect. Fires can spread across a non-FR fabric in seconds, turning a small ignition source into a raging inferno. FR fabrics successfully neutralise the source, usually in less than a minute, ensuring that anyone in proximity remains safe and giving them ample time to evacuate the area if need be. FR fabrics are particularly important in public areas such as care homes and nursing homes as the possible limited mobility of residents in these establishments increases the difficulty of them successfully escaping a fire hazard. Using flame retardant textiles therefore significantly reduces the risk to human life. It's also worth familiarising yourself with the UK Fire Safety Regulations. Meeting these regulations is a legal requirement and ensures that anyone inside your establishment remains safe.
Fire retardant bedding in action.
In the first video, we can see some polyester bed sheets. They may look like your average bed sheet from first glance, but these are fire retardant bed sheets. To demonstrate how they can prevent a catastrophic fire, a lit match is placed on top of the sheet.
As you can see, the naked flame quickly burns a hole into the fabric of the sheet. But the difference between this and non-fireproof bedding is that the damage quickly peters out and the flames don't spread across the sheet. In just 32 seconds the match has burnt out and there is minimal damage to the sheet.
Similarly, in this second test, a lit match is once again placed in proximity with the FR textile product. This time, we're testing a fire retardant duvet, which is thicker than a bed sheet. Once again, the naked flame quickly burns a hole in the fabric. However, the flame retardant properties of the duvet quickly neutralise the spread of the flame and the match burns out. The entire process is complete in around 33 seconds. To sum up, you should now clearly know how effective fire retardant bedding is and why it is an excellent idea to purchase them for your own establishment.
You can find out more and buy the featured range of flame retardant bedding at Vision Linens. Videos produced in partnership with West Midlands Fire Service.