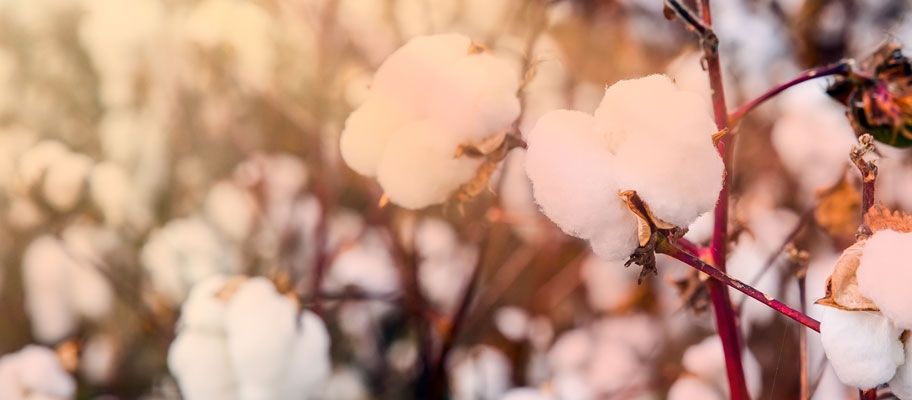 When we talk about textile materials, cotton is usually the first thing that pops into our minds. It's no surprise really; the most popular and most comfortable type of fabric, cotton products are worn and slept on by a huge percentage of the world's population every day. However, not everyone knows about the various types of cotton that are on the market, and how each one could actually suit their hospitality needs more than another.
Different types of cotton also require different washing and care practices, which is why we thought we'd break down the main cotton types below so you can take better care of the bathroom, bedroom and table linens in your B&B or small hotel.
Organic Cotton
Typically associated with hippies, organic cotton is actually an environmentally friendly, fluffy and sustainable cotton that hasn't been treated with pesticides. Although not widely available on the high street just yet, organic cotton is growing in popularity due to its purely natural manufacturing process that makes the quality of the product more exceptional and beneficial to all, eliminating the risk of irritation from chance pesticide residue.
Broadcloth
Popular in the medieval period, broadcloth is a cotton fabric most commonly used for making blouses, shirts, and home decors. It is a tightly woven fabric incorporating fine ribs and embedded crosswise ribs that make it incredibly sturdy while still being lovely and soft. Broadcloth quilts are some of the most hardwearing available and resist daily washing well.
Mercerised Cotton
Mercerised cotton is a great alternative for B&B, guest house and small hotel owners whose bedding and cotton products need to endure really regular washing.
Rather than an actual cotton type, mercerisation is actually a treatment the cotton threads undergo to strengthen them and give them a lustrous sheen. Instead of shrinking and losing its shape like regular cotton, mercerised cotton can better withstand daily wear and tear while greatly resisting mildew and lint.
Egyptian Cotton
There's much confusion surrounding what Egyptian cotton actually is. Rather than just being regular cotton that's made or sold in Egypt, true Egyptian cotton is a specific type grown purely in the Nile delta where conditions are so perfect that it develops a much longer, stronger staple length than regular cottons, meaning it can be manufactured into really high-quality yarn that's strong, light and breathes well.
Associated with high thread counts and real luxury, Egyptian cotton is the preferred bedding of choice for many consumers looking for a sound sleep and hospitality owners looking to make their business stand out.
Chenille
Chenille is named after the French word for caterpillar due to its fuzzy appearance, similar to the furry caterpillars you might come across during spring and summer. A textile that can be spun from a variety of materials but most commonly made from cotton, chenille can, in some cases, appear almost iridescent, a lovely quality where bedding and other B&B textiles are concerned.
Due to the fine and delicate nature of chenille it must be dry cleaned to prevent tufting and fibre damage, but, more conveniently for B&B and small establishment owners, it can also be hand washed or machine washed at a very low heat.
Sateen
Not to be confused with satin, sateen is actually a satin weave cotton fabric that resembles the glossy lustre of its namesake. Soft, smooth and of a high thread count, it's a popular and luxurious choice for sheets due to its high quality and when you take its seemingly delicate makeup into account, relative durability. However, it's still a good idea to wash sateen sheets in cold water, with a mild detergent, and on a gentle cycle.
Bamboo Cotton
This type of cotton fabric is half organic and incredibly soft in texture. Although not the first thing that springs to mind when the word 'cotton' is mentioned, bamboo cotton is a completely natural material made from a crushed bamboo mixture that ends in a chemical free, skin-friendly alternative to less environmentally-friendly types of cotton.
Muslin
Sometimes course but often a sheer and loosely-woven cotton fabric, muslin provides an airier sleeping experience and is perfect for establishments in warmer climates or during a rare British heat wave. Soft and kind to the skin, muslin also makes for pleasant bottom sheets.
Corduroy
When many people hear the word 'corduroy' they instantly think of their grandad's jackets and trousers. Sometimes called 'the poor man's velvet', it comes in various weaves and weights and is actually perfect for curtains, cushions, and bedspreads. It might not be seen as the trendiest cotton material, but corduroy is extremely practical, comfortable and durable, and can last for years.
---
These are just some of the most-used types of cotton materials essential for people's enjoyment and comfort. Throughout history, cotton has been the material of choice as it has the ability to be either smooth, sheer, luxurious, textured, rough, silky or thick and, given their immense durability and performance, are of great value to the modern day B&B owner and guest alike.
We stock a wide variety of high-quality cotton products from towels and pillows to bathrobes, bed linens, napkins and more, and all of varying thread counts to suit the style and budget of your establishment. Take a look at our collection and don't hesitate to contact us with any queries or special requests.