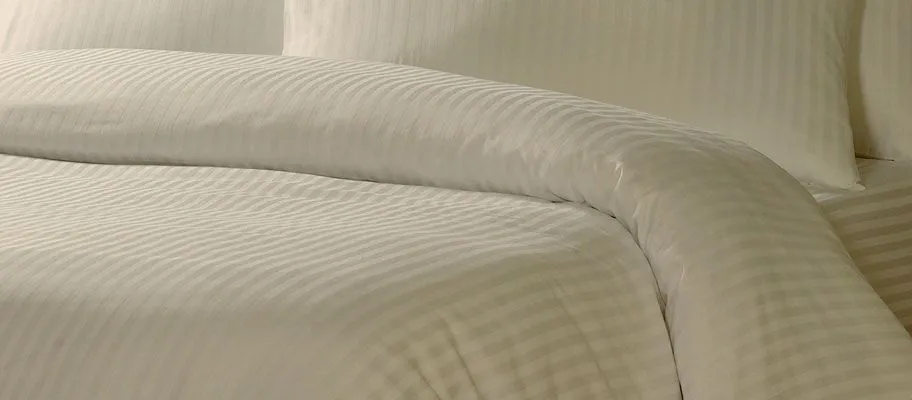 While the most familiar style of hotel duvet cover fastens with a common 'popper' style, there are actually quite a few variations of hotel duvet covers. From bag style duvet covers to envelope style and tack style, each is designed to suit a different purpose and be more suited to particular B&Bs, small hotels, and guesthouses.
So which style is best for you? After putting together an explanation of different pillowcase types a little while ago, we thought we'd put together a post that explained everything about hotel duvet cover styles too.
Bag Style Duvet Covers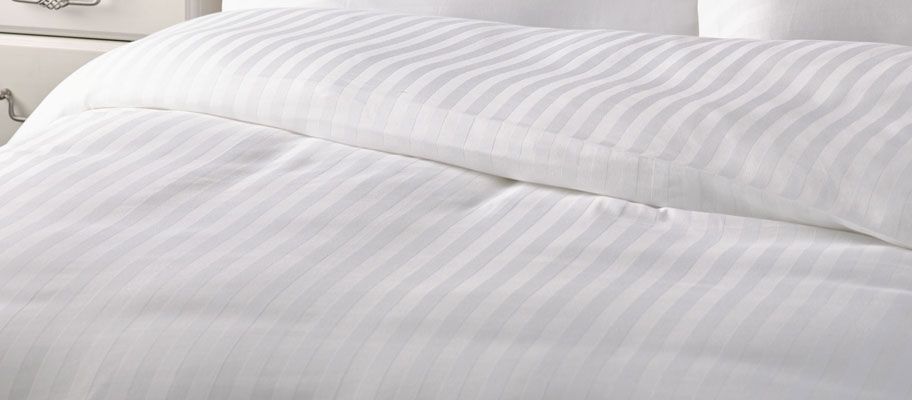 This is the traditional style of hotel duvet cover and an enduring one at that! This is mainly because it's perhaps the easiest duvet cover to change, making it very popular among chamber maids and housekeepers alike.
The end of a bag style duvet cover remains open, but can be tucked under the mattress at the base of the bed to create a really plush, tucked in appearance that prevents the actual duvet from slipping out. This lack of a barrier between the duvet cover and duvet is obviously a huge bonus where speedy guest room changes are required, and some even come with hand holes which make the changeover easier still! All you'll need to do is pass your hand through the duvet cover to grasp the quilt inside.
Envelope Style Duvet Covers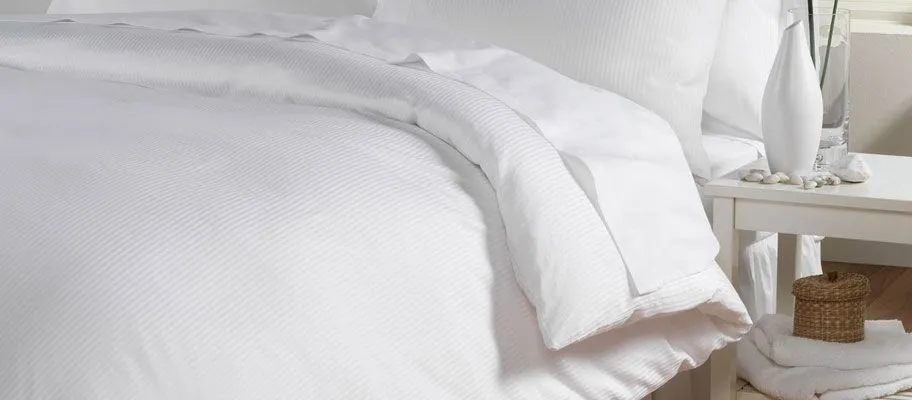 The envelope style duvet cover is just that, a kind of envelope for your duvet! Shorter in length than a bag style duvet cover, it also incorporates an internal flap which closes the duvet inside and holds it in place. While a bit more effort is required to tuck the duvet securely into the flap, it will be worth it when your guests don't have to contend with a migrating duvet during the night!
Just remember that envelope style duvet covers are a little more decorative and shouldn't be tucked in like traditional bag style covers. Simply let the end of the cover hang over the edge of the bed to keep it looking presentable.
Popper Style Duvet Covers
Popper style hotel duvet covers are one of the most secure and are great for those who've had problems with duvets moving around in past covers. They fasten easily with either buttons or poppers, but you do have to take extra care when laundering them.
When processed using an industrial iron you could encounter problems with pressure marks which can, in turn, lead to holes in the fabric around the poppers! The poppers themselves (if made of plastic) are even likely to melt under the heat, so it's much better to play it safe and iron this style of duvet cover by hand. It might require some extra elbow grease, but it will be well worth it.
Tack/Shoulder Style Duvet Covers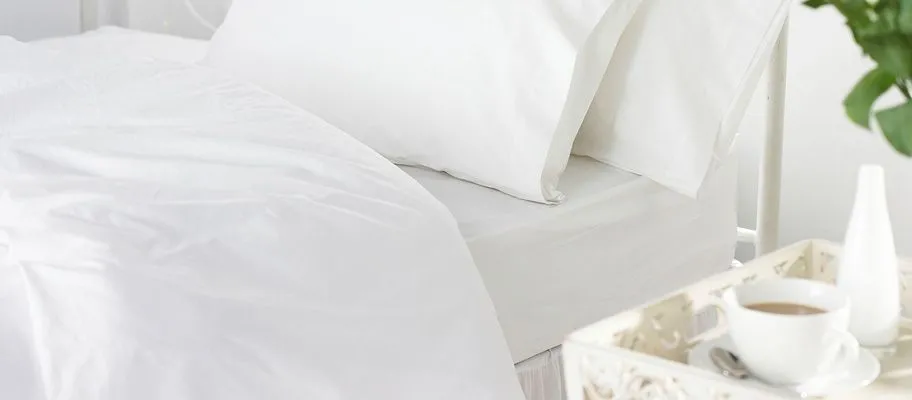 A tack or shoulder style duvet cover comes complete with what we affectionately refer to as "shoulders." These are created due to the open end of the duvet being sewn in from the seam at each side to about 20cm or so. This, in turn, holds the duvet corners in place while leaving a sufficient opening for removing or inserting your duvet, and is usually accompanied by poppers or buttons which then seal duvets in at the opening.
Slightly less popular than the other types of hotel duvet covers we've mentioned, tack style duvet covers are more commonly used in retail and are more commonly found in the home. This is purely because the covers "shoulders" make it that bit trickier to insert and remove a duvet. However, for B&B, guesthouse and small hotel owners who have more time on their hands (although running a B&B is hard work and extra time can often be rare to come by) this is an attractive duvet cover that tucks nicely into guest beds.
---
While it's customary to pick out hotel duvet covers based on their good looks, it's clear you should also take into account the way they'll be laundered, how quickly they'll need to be changed and, most of all, the effect they'll have on your guests.
Here at Vision, we stock a beautiful range of not just luxurious duvet covers, but a whole variety of matching bed linen for hotels, B&Bs, and guesthouses. From plain sateen varieties to classic satin strip duvet covers, there's something to suit every kind of establishment and discerning guest.