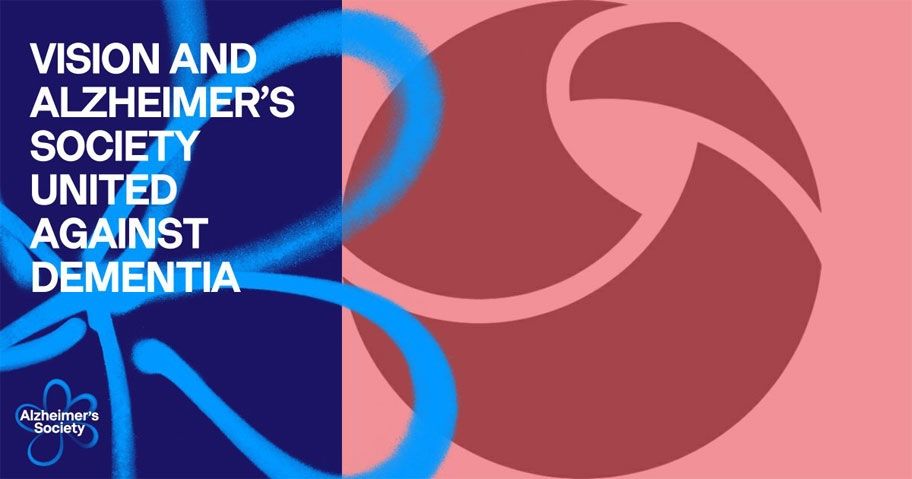 Dedicated to transforming the lives of patients in healthcare facilities up and down the UK, Vision are pleased of our Dementia Friend status (an Alzheimer's Society initiative) and a member of Dementia Action Alliance; a UK-wide initiative aimed at improving dementia-related services across the country.
As part of Dementia Awareness Week, we want to emphasise the importance of designing for dementia and how a care home design created specifically with dementia in mind is useful not only in tacking the physical symptoms of dementia but encourages staff and residents to engage better with the environments in which they live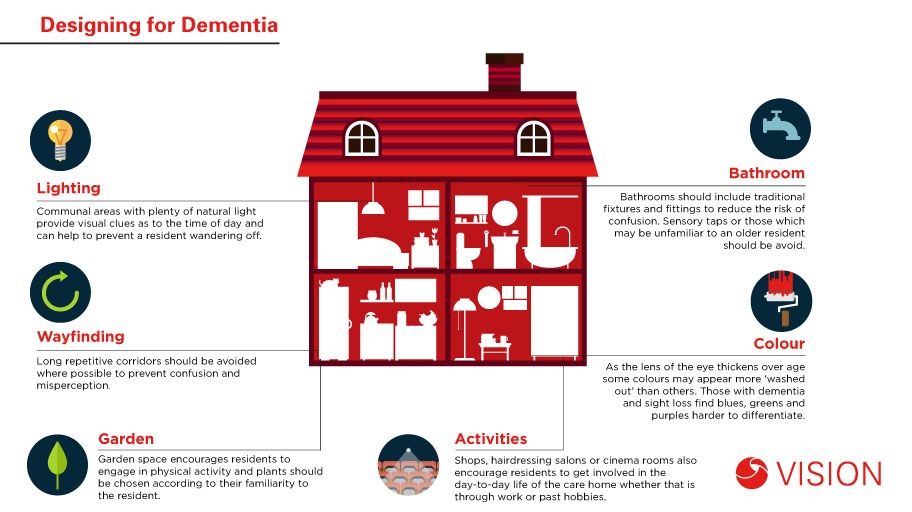 Legibility
Ensure the environment is free from clutter to reduce the risk of trips and falls.
Colour coded doors and frames can help to draw attention to the entrance or exit for those with dementia and/or sight loss.
Matte flooring will prevent the floor from looking wet or slippery.
Avoid stripes or shadows as they can make the space seem like a change in level.
Walking aids such as contrasting handrails should be used to assist those with mobility issues.
Chairs or seating will benefit from contrasting seat and arm colours and seating should be varied in different heights and colours so that a resident can choose their preferred seating whilst doing it safely.
As the lens of the eye thickens over age some colours may appear more 'washed out' than others. Those with dementia and sight loss find blues, greens and purples harder to differentiate.
Toilet seats should ideally be a different colour and contrast from the toilet itself as this helps to make it more visible and clear to a resident.
Orientation
As dementia gets progressively worse, it's important to install decorative items that are easy removable – such as mirrors.
Internal landmarks and artwork can help to promote wayfinding.
Items such as large clocks or artwork reflecting various times of the year support orientation.
Communal areas with plenty of natural light provide visual clues as to the time of day and can help to prevent a resident wandering off.
Items such as memory or sensory cushions can assist with nostalgia and recognition.
Control panels with audible sounds when pressed can help support a resident in the operation and recognition of the proposed equipment.
Signage is important as it helps to direct people around. Not only can signage be utilised in corridors and communal spaces however it can also be used in labelling of items and cupboards around the home.
Wayfinding
Long repetitive corridors should be avoided where possible to prevent confusion and misperception.
Clear objects and props can be used to act as a reference point.
Pictograms or photographic labels on particular areas can enhance wayfinding.
Clear identification on public and private areas, such as resident name or photo, will encourage a resident to find their way within the care home.
Familiarity
Bathrooms should include traditional fixtures and fittings to reduce the risk of confusion. Sensory taps or those which may be unfamiliar to an older resident should be avoided.
Dining areas should be large enough to provide a sense of community but small enough so as they are not overwhelming.
Lounges and dining rooms should also be designed to feel like a domestic room as opposed to something stark or clinical.
Garden space encourages residents to engage in physical activity and plants should be chosen according to their familiarity to the resident.
Meaningful Activity
Well-defined routes and passages should be free from obstructions and all passages should lead to a place of interest.
Rooms created specifically for socialising should be added as they provide a comfortable space for residents to enjoy with each other or their family members.
Shops, hairdressing salons or cinema rooms also encourage residents to get involved in the day-to-day life of the care home whether that is through work or past hobbies.
Vision has a specialised range of healthcare textiles available to buy at the Vision Shop.
You can find out more about Dementia Awareness Week at the Alzheimer's Society website